Garter Belt Sizing: Generally people who wear a size
0 - 4 US size dress (waist: 24- 26") will fit a size petite-small;
6 - 10 US size dress (waist: 27 - 32) should fit a size medium-large.
F
or stockings, pantyhose, leggings, tights and thigh highs with Small, Medium, Large, Extra Large Sizes: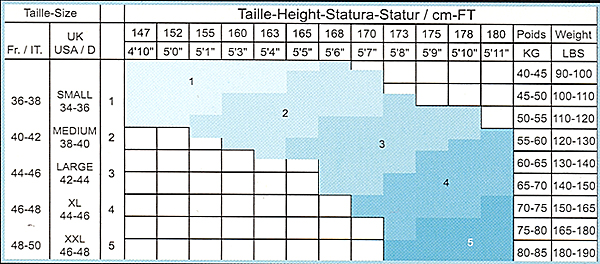 If you need assistance picking the right size, please email: info@stockingirl.com;
or call toll free: 800-339-3310 (U.S. only); International callers dial: 203.972.8900
for all Leggings and Thigh Highs with S/M, M/L Sizes:
S/M: 5' - 5'7"; 105 - 140 lbs
M/L: 5'7" - 5'10"; 140 - 170
All stockings and thigh highs with queen 1 and queen 2 size:
Queen 1: 5' - 5'6"; 150-200 lbs
Queen 2: 5'3" - 5'9"; 175-225 lbs
Other things to keep in mind when choosing your size stockings:
- Original 100% Nylon fully fashioned seamed seamed stockings that were knit on the traditional 1940's and 1950's hosiery machines are knit to fit the leg. There is not very much stretch to these stockings. Seamed stockings that would fit into this category would be the Caroline Stockings, or our Marissa Seamed Stockings
Other 100% nylon seamed stockings that are still beautiful but are not knit to the foot are our Gigi seamed stockings
- If your legs are very full or very slim, go up or down a length or a size to accommodate the different leg proportion.