StockinGirl Legwear
Thank you for visiting
StockinGirl.com! We offer a
beautiful variety of fashion
stockings including silk thigh
highs, silk stockings, seamed
stockings, opaque tights, nylon
stockings, sheer to waist
pantyhose, ankle and knee socks,
hosiery accessories, garter belts
and much more.
Save 10% off your
Entire Order
Enter Coupon Code santa
during checkout.
Plus
Free Shipping!
Orders over $50 free
USPS First Class Shipping
Orders over $100 free
USPS Priority Mail Shipping
Orders over $175 free
USPS Express Mail Shipping*
Options will display at checkout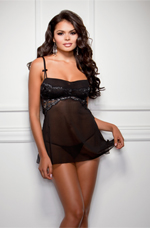 Black and Metallic Silver Lace
and Mesh Chemise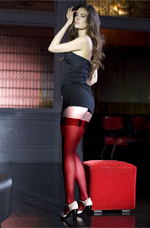 Cascading Heart
Seamed Thigh Highs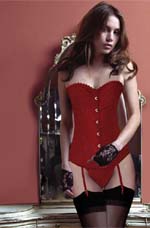 Ariana Paisley Brocade Corset
Available in Red or Black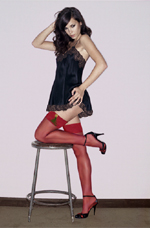 Christmas Tree Accented
Thigh Highs or Stockings

Current Promotions
*Save 10% off your entire order-
enter coupon code santa during
checkout.
*Discount Shipping: Orders over $50 can select free USPS First Class,
Orders over $100 can select free
USPS Priority Mail and orders over
$175 can select USPS Express Mail.
Options will display during checkout
when you reach the minimums.
*Free First Class USPS shipping on
all Canadian orders over $50.00!
-Select this option during checkout.
If you have any size & fit questions, please see our guides; or contact us via email (info@stockingirl.com) or phone (United States: 800.339.3310; International: 203.972.8900) and we will do our best to help you choose the right size or answer product questions..

Returns are for store credit or product exchange only. If you want to exchange a product for something different (size, etc), we may charge to re-ship international packages. We are sorry, we cannot refund shipping charges.

Under no circumstances can we accept any worn or tried on hosiery or panties for exchange or store credit. For health reasons panties are final sale and can not be returned. All original packaging must be intact and unopened for return.

Please

e-mail or call us for an authorization to return merchandise. We will provide directions to send the merchandise back. Please remember to include in the return package directions for the replacement merchandise, your name, address, telephone number and email address. Please use some form of return shipping that includes tracking information, as we are not responsible for lost packages.

You must return merchandise within 30 days from the date the order is shipped to receive store credit or replacement merchandise.

When your return is received by us, we will issue a store credit or send replacement merchandise. Store credit is good indefinitely.