Save 20% Off
Select Lingerie
*Not all lingerie styles apply
Enter Coupon Code
SAVEBIG in Checkout*
The garter belts shown below
are part of this sale!
{Reg,$49.99 with coupon $39.99}
Stockings with Reinforced
Heel & Toe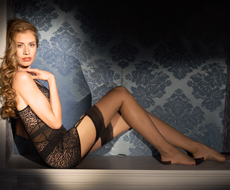 Rebecca Vintage Style Reinforced
Heel and Toe 15 Denier Nylon Stocking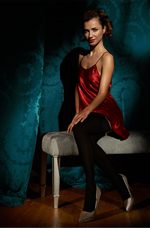 New Carmela Luxury
Opaque Silk Stockings
StockinGirl Leg Wear
Thank you for visiting
StockinGirl.com! We offer a
beautiful variety of fashion
stockings including silk thigh
highs, silk stockings, seamed
stockings, opaque tights, nylon
stockings, sheer to waist
pantyhose, ankle and knee socks,
hosiery accessories, garter belts
and much more.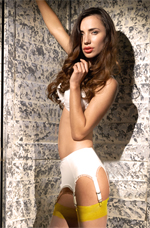 Ella Soft Satin 6 Strap
White Garter Belt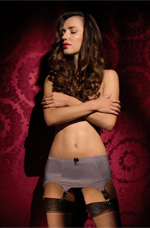 Jaylyn Soft and Smooth Lilac
Satin Garter Belt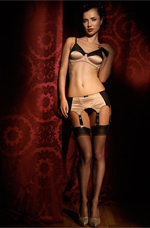 Klara Gold Satin and Sheer
Black Tulle 6 Strap Garter Belt
Current Promotions
Save 20% on Most Lingerie Styles.
Enter Code SAVEBIG at checkout.
Some styles are exempt from sale.
Sale ends March 31, 2015.
And
Free First Class Shipping on US
and Canadian orders over $75.
Stockings : Nylon Stockings, 100% Silk Stockings, Seamed, Reinforced Heel and Toe
What's our fascination with stockings?  We've had a love affair with stockings originating when they were still sold in beautiful vintage stocking boxes and each pair was wrapped in delicate tissue paper.  Many of our current nylon stockings are perfect reproductions of vintage styles we used to collect.  You will find sheer stockings, opaque stockings, textured hosiery and everything in between on the page below.  StockinGirl is the original company making sheer reinforced colored stockings reproductions, Hanes 415's and vintage bi-color stockings many of which are modern copies of our founders private collection.