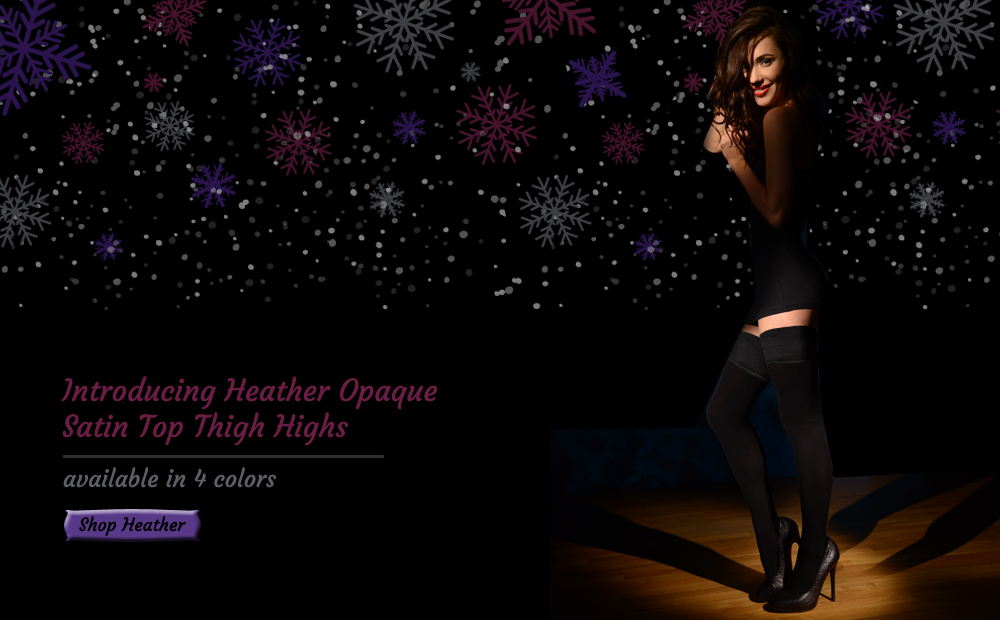 The most comprehensive stockings, tights, thigh highs and leggings selection on the internet!

We carry the classics like vintage inspired stockings and fashion legwear but we're so much more than that. StockinGirl is the exclusive producer of printed and patterned tights, thigh highs and socks. We also feature a wide selection of customizable holiday hosiery and special occasions prints. These prints, patterns and custom stocking hosiery are unique to StockinGirl. You will not find them anywhere else!
---
Here are some of our most popular legwear categories:
Vintage Style
: We stock 100% silk stockings, RHT stockings and multiple varieties of fully fashioned seamed stockings knitted on the original vintage machines from the 1940's - 1960's. Our retro seamed stockings include classic colors and fashion variations including modern colors such as tangerine, yellow, pink and purple.
---
Bridal Stockings
: Our bridal selections are unique, elegant and customizable. Customized thigh highs and stockings make a luxurious gift for the bride and the bridal party. We carry all levels of sheerness and deniers in a wide size range from petite to plus size.
---
Fashion Legwear
: Our products are available with unique prints and patterns that cannot be found anywhere else. Our exclusive prints come on stockings, thigh highs, socks and leggings. They are perfect for all of your fashion needs. Our fashion unique custom legwear products are sure to make you stand out in the crowd.
---
Cold Weather Legwear
: Be toasty and fashionable at the same time..yes, it's possible! Our cold weather legwear includes a wide selection of opaque tights and leggings along with a variety of specialty cotton tights, wool tights and thigh highs for the cold weather.
---
Custom Hosiery
: StockinGirl is home to the first custom hosiery boutique. Create something beautiful and sexy for your loved one, we can help! We offer high quality personalized tights that cannot be purchased anywhere else. This category offers a large range of hosiery to help you celebrate the major holidays including Christmas, Valentine's Day, Halloween and St. Patrick's Day. Explore all of our styles and create your own unique pair of legwear!
---
Garter Belts, Lingerie and Accessories
: Our special boutique collection includes sexy six strap garter belts, corsets and soft silky slips, We have provocative yet functional for day-into-night lingerie so you can imagine and create a special occasion that just might evolve into a particularly memorable experience