Stockings with Reinforced
Heel & Toe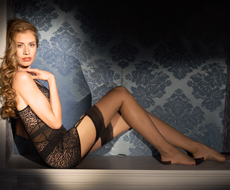 Rebecca Vintage Style Reinforced
Heel and Toe 15 Denier Nylon Stocking
StockinGirl Leg Wear
Current Promotions
~Tight Sale: Save 25% off selected
tights for a limited time. Quantites
are limited if we run out you will be
refunded. No returns or exchanges
on these sale items. Sale is limited
to 8 specific styles: CCT10, CRT2,
CVT10, HRT4, HTT2, TRT4, USAT5
and VSOT4. Discount can not be
applied to previous orders.
PLEASE NOTE: when entering
coupn code it wil automatically
update in your basket to the
sale price.
Free First Class Shipping on US
and Canadian orders over $75.00.
Stockings : Nylon Stockings, Seamed, Reinforced Heel and Toe
What's our fascination with stockings?  We've had a love affair with stockings originating when they were still sold in beautiful vintage stocking boxes and each pair was wrapped in delicate tissue paper.  Many of our current nylon stockings are perfect reproductions of vintage styles we used to collect.  You will find sheer stockings, opaque stockings, textured hosiery and everything in between on the page below.  StockinGirl is the original company making sheer reinforced colored stockings reproductions, Hanes 415's and vintage bi-color stockings many of which are modern copies of our founders private collection.

Page(s):

| | | |
| --- | --- | --- |
| < | 1 2 3 ... 7 | > |