Denier is the measured weight of the yearn used; 5 is the sheerest and 100 is the most opaque, or solid. 15 Denier is the average for dress sheer leg wear.
Welts refers to the top portion of the stockings, welts come in all different styles; plain knit, lace, decorative and more.
Stockings reach to the thighs but require a garter belt in order to stay up.
Thigh Highs are stockings that stay up on their own, without a garter belt. They usually have 2 to 3 silicone bands inside the welt to keep them up.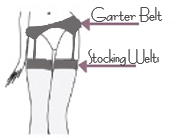 Garter Belts are lingerie worn to keep up stockings. Most common garter belts are 4 strap garters.
Six strap garter
belts usually hold up traditional nylon stockings more
securely without bagging and for longer periods of time, especially if they are seamed. The six straps keep your seams straight!
Fully Fashioned stockings are non-stretch and knit to fit. They are knit flat and seamed up the back. Fully fashioned stockings can have either a Cuban Heel (squared off at the top), or French Heel (pointed at
the top), and all have a keyhole opening in the back. Fully fashioned stockings are made on original 1950's machines and are truly perfect reproductions of hosiery from that era. Our Marissa seamed stockings are a perfect example of a traditional fully fashioned stocking. Since fully-fashioned stockings are a difficult and time consuming to manufacture, they are usually more expensive, but we think they are worth it! Authentic full fashioned stockings are pure nylon and non-stretch.
We have seamed stockings that are not full fashioned with a faux seam that have Lycra knit in for stretch if desired.
Seamed stockings are a vintage style hosiery that has a vertical seam starting at the heel and ends at the welt (top) of the the stocking. Seamed stockings require a garter belt as do all true stockings. We also have seamed thigh highs which stay up on their own.
Sandalfoot hosiery has sheer heels and toes without reinforcements.
Reinforced Heel and Toe more commonly referred to as RHT, this is vintage style hosiery and has darkened/reinfore3d knitting on the heel and toe.
Microfiber is nylon yarn that is finely chopped and re-spun for a soft, matte finish.
Lycra is elastic fiber that is knit in Legwear and hosiery to increase clingability and wear.
---
Stretch Stockings vs Nylon Stockings: Stretch stockings are made with a blend of Nylon and Lycra while Nylon stockings are made of 100% nylon. Stertch s
tockings with Lycra tend to look smaller when removed from the package, but will stretch to fit.
Pure Nylon vintage style stockings fit much differently then stretch stockings.
Traditional vintage style stockings such as our Trisha nylon stockings or our vintage Hanes style rht stockings look very long when removed from the packages, but are much shorter when put on. Please inquire if you have a size question, we are happy to help.
Pantyhose vs Tights: Pantyhose and tights are the same, but usually the term pantyhose means that the hosiery is sheerer. The typical denier for pantyhose ranges from 5-30 while the denier for tights start at 30 denier and go up.
Sheer vs Opaque: Opaque hosiery is heavier and less transparent. Our opaque stockings are 50 denier, which is generally the lowest that opaque hosiery can be. As the denier number rises, so does the opacity. So 100 denier microfiber or Lycra tights would be very opaque. 40 denier would be semi-opaque.