Welcome to our How-to-Wear Section
Here you will find helpful tips on how to wear some of our most popular products. Ranging from sheer thigh highs to cotton over the knee socks.
How to Wear Thigh Highs: Thigh Highs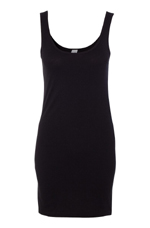 are a great accessory and a product ever girl should have. So how can you wear thigh highs? Several options are available: the most popular is wearing thigh highs with a tight medium length dress. Most people only think of pantyhose when looking for a little coverage on their legs, but don't over look thigh highs as they can be your best friend! Thigh highs (with silicone bands) will stay up and will not leave you with tight bunch around your waist. You can take a simple dress (as seen on the right) and accessories it to wear during summer and winter.
Thigh High Summer Options: Of course if you are going to the beach leave your thigh highs at home or bring them in a little hosiery bag for night time. Opt for sheer thigh highs which will provide you with minimal coverage but will make your legs look smooth and flawless.
Thigh High Winter Options: Try out a pair of opaque thigh highs in colder months. Opaque thigh highs will allow you to still wear your cute little black dress without being cold. They act like micro fiber tights but again will not bunch around your waist. Add a long sweater wrap, then pair your opaque thigh highs with some ankle or knee high boots to complete the outfit.
Click Here to View our Thigh High Collection
How to Wear Over the Knee Socks: Over the knee socks come in many different patterns and have a wide variety of uses, scrunched down, pulled high, under boots and more. Below we will touch on a few of our favorite ways to wear over the knee socks.
Lounging Around: Over the knee socks are a great leg wear accessory to wear while lounging around in colder months. Pair these with a pair of sleepwear shorts for a comfortable cozy look. Perfect for a winter getaway to stay looking sexy all day long.
Rainy Days: Rainy days can often be cold and dreary making most of us not want to even leave the house. If you do need to run some errands make sure you slip on your favorite pair of over the knee socks to keep you feet extra warm and dry. Over the knee socks pair perfectly with rain boots not only adding a soft little cushion but also helping keep you snug. If you are not a rain boot fan, over the knee socks work perfectly with knee high boots as well.
Skirt it Up: Tired of wearing jeans during colder months, over the knee socks make it possible to wear your favorite dress or skirt. Start your legs off with a pair of sheer pantyhose, then layer your pantyhose with a pair of over the knee socks, complete the look with your favorite knee high boots. You can wear the over the knee socks scrunched down slightly peaking out of your boots or pull them up high for a sexier look. Pantyhose paired with over the knee socks provide just the right amount of coverage to keep your legs warm.
Click Here to View our Over the Knee Sock Collection
Check back for more "How to Wear" tips!